I started a list for last week, but didn't have time to get it posted before we left for a weekend with two of our grandkids before one of them heads back to college tomorrow. I didn't have any internet access, but time with the grandkids is more important than blogging. So some of there are from last week, and some are new.
Homemade Chocolate Syrup
Sugar Bananas
I want to try this recipe the next time I make chocolate
No-Machine Ice Cream
. I am really not a fan of any of the commercial chocolate syrups I have purchased so don't make chocolate ice cream often. I think using this syrup might change that.
Butterfinger Blondies with Butterfinger Butter Cream
If It has Butterfingers in it, I am there. I am also a great fan of Blondies, so Blondies and Butterfingers, I am really, really there. I planned to make these last week, but didn't get to it, but soon, soon.
Chicken Lettuce Wraps
Spicy Garlic Chicken Pizza
Eat at Home
I was looking for a couple of good, quick chicken recipes. Tiffany came through again, and the chicken part of both recipes can be frozen.
Peanut Butter Banana Smoothie
This Chick Cooks
In her post, Katie mentions that her daughter said this was so good, Katie should open an ice cream store. I agree. This is my new "go-to" breakfast. I ground up a supply of the oats and have them in a jar and sliced up a bunch of bananas and have them in the freezer. Now I just grab all the ingredients and in less than 2 minutes Breakfast.
Southern Food About.com
I am anxious to give these a try. They might be easier than the
Crispy Fried Green Beans
I listed a couple of weeks ago. I am going to give it a go at oven-frying them.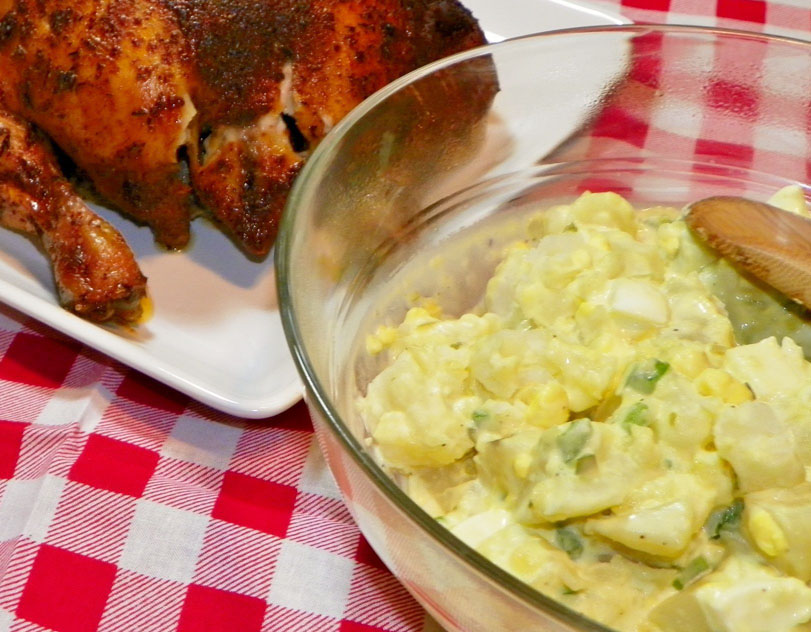 Around My Family Table
It is very sad that I have cooked as many years as I have and have never found a potato salad recipe that I was really happy with. I think that is all solved now. I have made this recipe a couple of times. My husband approved. I made it for a potluck last weekend (I quadrupled the recipe), and a number of people commented on how good it was. I do pour a mixture of mustard, pickle juice, and vinegar over the warm potatoes and chill them for 30-60 minutes before I combine them with the rest of the ingredients.
That is my list for this week. I an anxious to see what others have found.
Note: All photos are the property of the owners of the respective blogs listed.
Linking to
Friday Favorite Finds