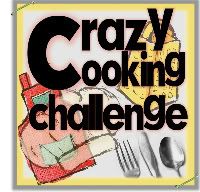 Good Monday morning and welcome to my new followers. As always, thank all of you who take the time to read my blog. I hope that what you find posted here is useful.
I am part of the Crazy Cooking Challenge, and we are doing mashed potatoes. Our hostess, Tina, over at
Mom's Crazy Cooking
is doing a wonderful job of hosting. We are all having a great time. If you would like to join the fun and participate, hop on over to Tina's blog to get the
full details
. Since the challenge posts are today there will no DIY grocery post this week.
When I did a search for mashed potato recipes on blogs, I did not get very good results. There were lots of mashed potatoes recipes, but not many on what I consider personal blogs. Maybe it was the search engine I used. I decided to just check out some of the blogs I have subscribed to over the last year, and I did find that many of them had recipes for mashed potatoes. In the end, I decided that I would make
Loaded Mashed Potatoes
from Lynn's Kitchen Adventures.
I liked that Lynn's recipe just called for milk for liquid and her idea to incorporate the cheese and bacon right in the potatoes.
Of course, I can never leave "well enough" alone so I made some changes. First, I prefer to use Yukon Gold potatoes to make mashed potatoes. Second, we love garlic so I almost always use it in my mashed potatoes. Third I used a Mexican blend for the cheese so I added some cumin. I guess that what I ended up with was Mexican Garlic Loaded Mashed Potatoes.
To serve the potatoes, I added a dollop of sour cream on top and garnished them with a little more cheese and bacon.
Loaded Mashed Potatoes
from Lynn's Kitchen Adventures
3 lb. potatoes, peeled and cubed (I used Yukon Gold)
1-2 large cloves garlic, minced (optional, I added this)
1 c, milk, warmed
1/4 c. butter
1 c. shredded cheddar cheese (I used a Mexican Blend)
4 slices or more crumbled crisp cooked bacon
1 t. cumin (optional, I added this)
1/4 c. sour cream for garnish (optional, I added this)
Combine potatoes and garlic in a saucepan and cover with cold water. Bring to a boil, turn down heat and simmer until potatoes are tender, about 10 minutes. Drain potatoes well. Mash potatoes with butter and milk until well mashed and creamy. Stir in cheese and bacon. Lynn's post didn't say how many servings, I am thinking about 6.
Thanks, Lynn, for a great potato recipe.