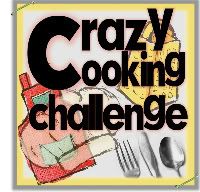 I knew as soon as I saw the post over at
Something Swanky
that this was the fudge I would make for December's Crazy Cooking Challenge. Ashton says that this is a copycat for a fudge sold at the BYU book store. I have never had fudge from the BYU book store, but what could you not like about this. It has everything-white chocolate, caramel, pecans and toffee bits. What more could one ask?
This candy is so quick and easy that, if you keep the ingredients on hand, you can almost have candy at the "drop of a hat."
The next time I make this, I will use nonstick foil or foil sprayed with nonstick spray instead of the waxed paper. The caramel wanted to stick to the waxed paper.
I make my own homemade
Sweetened Condensed Milk
so I used that. I added 1 T. water to the caramels in a glass measuring cup and melted them in the microwave, stirring after each minute. It took about 2 minutes to melt the caramels.
This could be an opportunity to try substituting broken stick pretzels for the pecans. Based on my other experiments, the pretzels would keep their crunch just like the pecans. You might want to consider this if you're watch cost or making this for gifts and don't know if everyone can have nuts.
Below are my little pathetic photos. If you want to see truly spectacular photos of this fudge, go to Something Swanky. Her photos made me want to leap right into my laptop screen.
The block of candy before cutting
The cut fudge ready to serve. Who am I kidding, I don't want to share this with anyone!
From Something Swanky


3 c. white chocolate chips (She used Nestles, I used Ghirardelli Premium White Baking Chips)
1 can (14 oz.) Sweetened Condensed Milk or make you own
1/2 bag (14 oz.) Kraft Caramels (about 25), melted as above
1/3 c. toffee bits (next time I will use the chocolate covered ones if I can find them)
1/2 c. coarsely chopped pecans ( I just halved the pecans lengthwise)


Line a 9x9-inch square dish with nonstick foil. Set aside. Place the white chocolate chips and sweetened condensed in a medium saucepan. Place over low heat and heat and stir until melted and smooth. Keep heat low and keep stirring. It will take about 5 minutes and mixture should easily pull away from the sides of the pan. Pour into the prepared pan.
Quickly melt the caramels and pour over the fudge. Use a knife or a spatula to stir the caramel into the fudge lifting the fudge and swirling the caramel.
Sprinkle the toffee bits and the pecans over the candy. Take a piece of waxed paper and press the bits and nuts into the surface of the candy.
Chill for a least an hour. Remove fudge from pan. With a wet knife cut evenly into 36 pieces.


I am not sure that I am going to let hubby know that I made this. Thanks, Ashton, for sharing a delicious recipe.

Please check out the links and vote for your favorite fudge. We want to see who has that Ultimate Fudge Recipe.