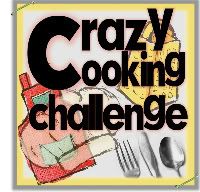 This month's Crazy Cooking Challenge is for Chicken Noodle Soup. I found the recipe I based my chicken noodle soup on over at
Jill's Recipes
. The recipe interested me because it was more of a creamy soup than most chicken noodle soups. It also used frozen noodles which I had never used. The noodles were on sale at Safeway so I thought I would give them a try.
I will have to admit that I did change the recipe quite a bit. First instead of the cream of chicken soup it called for, I used the ingredients in my homemade cream soup mix. I also added celery. red pepper, regular onions, and chopped the carrots instead of grating them.
The original recipe called for 3 quarts of water. I started the day before I planned to make the soup and cooked 4 chicken thighs that I had purchased on sale for .99 lb. I put the thighs in 2 qts. of water with onion, carrot, celery, red pepper, bay leaf, garlic, and salt and pepper. I brought this to a boil and cooked them about 30 minutes. I removed the chicken thighs, poured the liquid through a strainer, and discarded the vegetables. The chicken and liquid were then refrigerated overnight. The next day, I removed the skin and cut the thigh meat from the bones, chopped it up and set it aside. There was about 2 1/2 c. chicken from the four thighs. I removed the fat from the liquid and put the broth in a big pot. I added the remaining quart of water, the homemade soup mix, the veggies, and seasonings. This was brought to a boil stirring very often. I lowered the heat and simmered the mixture for 20 minutes. I brought the mixture back to a boil and added the noodles per the package directions and cooked 10 minutes, added the chicken and cooked another 10 minutes until the noodles were tender.
The results were a wonderful, creamy large amount of soup which hubby and I ate for lunch for several days.
If you want to use canned cream-of-chicken soup like the original recipe did, use one large can or three regular-sized cans and omit the dry milk, cornstarch and 3 34 c. water. Next time I make this I will add a cup or so of frozen peas when I add the chicken.
Creamy Chicken Noodle Soup
Inspired by Jill's Recipes
2 qts. chicken broth from cooking chicken (purchased broth could be used)
1 qt. water
1/4 c. chicken soup base (I use Better than Bouillon Organic)
3/4 c. nonfat dry milk
4 1/2 T. cornstarch
1/2 t. dried basil
1/2 t. dried thyme
3 3/4 c. water
1 c. chopped onion
1 c. chopped carrot
1 c. chopped celery
1 c. chopped red pepper
1 clove garlic, minced
generous grinding of freshly ground pepper
2 1/2 to 3 cup chopped cooked chicken
1 (12 oz.) pkg. Reames Frozen Noodles
In a large pot combine chicken broth, water, and chicken soup base. Mix well. In a large bowl combine dry milk, cornstarch, basil and thyme. Mix well. Stir in 3 3/4 c. water mixing well. Add to water and broth in pot, stirring until well combined. Add onion, carrot, celery, red pepper and garlic. Heat mixture to boiling, stirring often to prevent sticking. Lower heat and simmer for 20 minutes. Bring soup back to a boil and stir in noodles. Reduce heat and let noodles boil gently 10 minutes. Add chicken and generous grinding of black pepper. Continue to boil 10 more minutes or until noodles are tender. Taste and adjust seasonings, adding more soup base or bouillon if necessary. Makes at least 8 generous servings.
February's challenge is Chocolate Cake. If you would like to join in the fun, you can get more details by heading over to
Mom's Crazy Cooking
and checking it out. Tina is a great hostess.