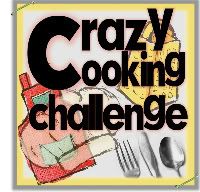 When I saw that grilled cheese was the topic for May's Crazy Cooking Challenge, I knew that I wanted to do something pizza inspired. I found a recipe for Pepperoni Pizza Grilled Cheese at
Never Enough Thyme.
I wanted a few more things in my sandwich so here is my take on that recipe.
Lana made a compound butter. I did, too, but added garlic powder to mine, used Italian seasonings instead of oregano, and used 1/4 c. parmesan cheese.
I make my own no cook pizza sauce so I made up a recipe of that. If I have leftover pizza sauce, I put it in ice cube trays and freeze i. I put the frozen in a freezer bag; and when I want just a little pizza sauce, I put them in a bowl and thaw in the microwave.
Besides cheese and pepperoni, I wanted Italian sausage, olives and green onion in my sandwich. I browned up a pound of Italian sausage, drained it and blotted it with paper towels. That is the amount that I had on hand so there was extra sausage. I divided it into 1/4 c. amounts, put that in snack bags and put them into a freezer bag for the freezer.
I like to degrease my pepperoni so I put the amount needed for the sandwich between two pieces of paper towel and microwave it for 5 seconds.
A sturdy bread is needed to hold all the filling in this sandwich. I used a multi-grain bread in my sandwich, but any favorite sturdy bread can be used.
I found a mozzarella/ provolone cheese blend at my local grocery store. They had both sliced and shredded, and it was BOGO so I got both. I ended up using the shredded.
Although I did not do it when I made this sandwich, I like Lana's idea to brown the sandwich on both sides and then put it in a 325 degree oven to finish melting the cheese. I think this would be good to do when making a number of sandwiches at a time.
!/2 c. butter, softened
1 t. garlic powder
1 t. Italian seasoning
1/4 c. grated parmesan cheese (shelf stable)
Combine ingredients and mix well. Chill to let the flavors blend but bring to room temperature to spread on your sandwich. Makes about 3/4 c.
No Cook Pizza Sauce
1 can (8 oz.) tomato sauce
1 t. sugar or to taste
1 t. dry oregano
1/2 t. marjoram
1/2 t. basil
1/2 t. garlic salt or 1/4 t. each garlic powder and salt
Combine ingredients and let set at least one hour to let flavors blend. If using sooner than that I would heat the mixture until it boils and simmer 5 to 10 minutes. Makes 1 cup.
To make one sandwich:
2 slices bread of choice
2 T. Italian Garlic and Cheese Butter
2 T. pizza sauce
enough pepperoni slices to cover 1 slice of bread, usually 5 to 6
1/4 c. mozzarella cheese
1/4 c. Italian sausage, cooked
sliced ripe olives as desired
sliced green onion as desired
Place pizza slices between two layers of paper towel and microwave 5 seconds to degrease and cook slightly. Set aside. Place a skillet over medium heat and start heating it up. Spread one side of one slice of bread with about 1 T. butter mixture. Place in skillet. Spread about 1 T. pizza sauce on the other side of bread. Arrange pizza slices on the bread. Top with the cheese. Sprinkle the Italian sausage over the cheese. Top with the amount of sliced ripe olives and green onions desired. Spread remaining pizza sauce on second slice of bread. Place bread on sandwich and spread remaining butter on the top side. Press down lightly to help keep ingredients together. Continue cooking on first side until bread is as brown as you like. Turn sandwich and cook on second side until it is as brown as you like and cheese has melted. Remove sandwich to a plate, cut it in half and enjoy. Makes 1 sandwich.
Come and join in for next month's challenge. You can get all the details at Tina's
Mom's Crazy Cooking
blog.