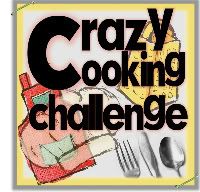 When I saw that Fried Chicken was the subject for this month's Crazy Cooking Challenge, I knew that I wanted to do a different kind of recipe and that I wanted to use chicken thighs. We eat thighs a lot at our house, both because we like them and they make an inexpensive main dish.
After a bit of searching, I found
Chicken Karaage-Japanese Fried Chicken
over at
Just Hungry
. I knew that I had found what I wanted to make.
I wasn't sure about the need to deep fry this. Hubby is the deep fryer in this family and does it in a commercial deep fryer that he has in his shop. I don't have a small electric deep fryer so knew I would have to do this the old-fashioned way in a saucepan on the stove. The recipe sounded so good, however, that I decided to plunge ahead.
I used 6 chicken thighs and boned them myself. Boneless thighs are available if one wishes to skip this step. I chose to leave the skin as Makiko suggested. Because I had more chicken than used in the original recipe, I doubled the marinade ingredients which seemed to make enough. I did not have any sake so used mirin. Makiko lists sherry as the first preferred substitute for sake so I could have used that.
Potato starch is the preferred coating for Karaage although cornstarch can be used. I had potato starch on hand so did use that. It gave the chicken a crisp, shattery coating like a potato chip. The cornstarch is supposed to give a heavier coating more like a tortilla chip. I needed to use about 1 1/2 cups of potato starch for the amount of chicken pieces that I had.
I got my oil too hot initially and the first chicken pieces turned out a bit black. They tasted OK, just were not very pretty. The ones in the photo are better, but my picture is not as nice as the one on Makiko's original post. The potato starch also seemed to leave some residue which shows in the photo also. The chicken was done so I am not sure why that happened. It did not affect the flavor of the chicken.
Though not traditional, I chose to make a Sweet and Sour Sauce to serve with the chicken. We thought it was all very good. I will definitely make this dish again, but I will have hubby do the deep frying.


adapted from Just Hungry
6 chicken thighs, boned and cut into large bite-size pieces
1 piece fresh ginger (about the size of your thumb), grated
6 T. soy sauce (I use low sodium)
2 T. sake, sherry, or mirin
about 1 1/2 c. potato starch or cornstarch
Combine ginger, soy sauce, and sake, sherry, or mirin. Pour over chicken pieces and mix well. Let marinate for about 30 minutes. Heat oil in a pan or deep fryer to abut 355 degrees. Drain chicken pieces and roll in potato starch. Add a few pieces at a time to the hot oil and fry until a deep golden brown and the chicken is cooked through. Drain on a wire rack with paper towels placed underneath. Makes about 4 servings. Serve with Sweet and Sour Sauce, if desired.
Sweet and Sour Sauce
3/4 c. pineapple juice (this is a 6 oz. can)
3/4 c. vinegar (I use rice vinegar)
3/4 c. ketchup
1 1/2 c. sugar
2 T. soy sauce
3 T. cornstarch
Combine all ingredients in a medium saucepan and mix well. Place over medium heat and stir until thick and clear. Store in the refrigerator. This will keep for awhile. Makes abut 2 c.
Each month for the Crazy Cooking Challenge our hostess, Tina, assigns a specific dish to make. Until this month, we were to obtain the recipe from another blog. Now we can obtain the recipe from anywhere, even dream one up. This is such a fun challenge to do. I invite you to join us next month and share a recipe for cheesecake. Just click on over to
Tina's Crazy Cooking Challenge page
to sign up.