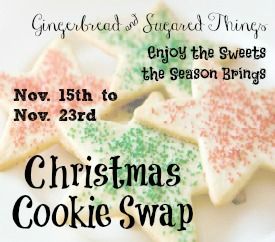 Well, Whoops! Some of you may have gotten a post with only a graphic. Not sure how that happened.
Since I posted earlier about this year's Great Food Blogger Cookie Swap, and it is now closed, I thought that I would also let people know about this new twist on a Cookie Swap. In this cookie swap you will send a recipe to someone and someone else will send a recipe to you. Each participant will then make the recipe that they received and post about it. Posts will go "live," and there will be a link party on December13th.
Isn't this a clever idea? You get to keep the cookies that you make and don't have to go to the Post Office or pay for shipping. I am very excited about this and have signed up. This is being hosted by Julie at
White Lights on Wednesday
and the following bloggers.
A click on over to
Julie's sign up page
will give you all the details and the schedule. Cookie Monster's Grandmother hopes that you will join her in the fun. Sign up runs through November 23, 2012.