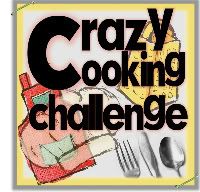 The subject of this month's Crazy Cooking Challenge hosted by Tina at
Mom's Crazy Cooking
is Dressing/Stuffing. No matter what you call it, it is one of my favorite things about Thanksgiving dinner. As far as I an concerned, I can never make enough of it.
Yesterday I shared a recipe for
DIY Seasoned Cornbread Stuffing Mix
and Monday I shared
DIY Poultry Seasoning.
These are the basis for my cornbread stuffing. Because we like the combination, I have added fruits and nuts to my stuffing over the years. I use dried apricots, dried cranberries and fresh chopped apple. For nuts I have used walnuts, pecans, almonds, hazelnuts and macadamia nuts. It just depends on my mood that year which nut I choose. I always toast them.
This stuffing recipe makes a somewhat firm stuffing that can be cut into squares. If a less firm stuffing is desired, increase the amount of chicken broth used.
The stuffing may be made ahead and frozen. Thaw and rewarm in the oven keeping it completely covered.
Fruit and Nut Cornbread Dressing/Stuffing
1/2 stick butter or margarine
1 c. chopped onion
1 c. chopped celery
1/3 c. chopped red pepper (opt.)
5 c. dried cornbread dressing/stuffing mix (1 recipe DIY Seasoned Cornbread Dressing/Stuffing Mix)
2 c. dry breadcrumbs
1 1/2 t. dried sage
1 T. poultry seasoning
1/2 t. dried thyme
1/2 c. dried cranberries
1/2 c. chopped dried apricots
1 to 2 medium baking apples, peeled, cored and chopped
1/2 to 1 c. chopped, toasted nuts
2 c. turkey or chicken broth (or more to get texture desired)
1 egg beaten with 1/2 c. water
Melt butter in large skillet. Add onion, celery and red pepper and cook until tender, but not brown. Meanwhile in a large bowl combine cornbread, bread crumbs and seasonings. Mix together well. Add cranberries, apricots, apple and nuts. Stir to mix well. Add vegetables and mix in. Add turkey or chicken broth. The mixture should be quite wet. Beat egg with water and stir in. Turn into a foil-lined 9x13-inch baking pan. Cover tightly and bake at 350 degrees for 40 to 45 minutes. Uncover the last 10-15 minutes of baking time if you like a crust on your dressing/stuffing. Serves 12
Next month the challenge is sugar cookies. If you would like to join in the fun, you can find all the details on
Tina's Crazy Cooking Challenge Page
. Check out the links below for other great dressing/stuffing recipes and come join us next month.