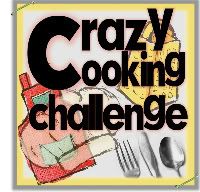 When I saw
this cake
at Mrs. Happy Homemaker, I knew that I had to make it. Her cake looked wonderful and delicious. I had only one problem (I thought), and that was that I did not have any layer cake pans. I never make layer cakes and long ago disposed of my pans. Nevertheless, I knew that I would forge on. Thus begins the Saga of the Fudge Ripple Cake.
I gathered my ingredients and stirred up the cake. I use
Saco Cultured Buttermilk Blend
so I used that instead of liquid buttermilk. I decided to use butter instead of the shortening that was used in the original recipe. I lined a 9x13-inch pan with foil so that I could remove the cake from the pan easily.
Next I stirred up the cream cheese/sweetened condensed milk topping. I make my own homemade
sweetened condensed milk
so I had made up a batch of that. I poured the mixture over the cake batter and baked the cake. When I took the cake from the oven I noticed that the top did not look like the pictures in Mrs. Happy Homemaker's post. It didn't seem like a problem.
Since I was going to lose daylight to take pictures, I let the cake set overnight before I made the frosting. The next day I made up the frosting. I had only 1 cup of cocoa so used that instead of the 1 1/3 cups cocoa asked for. The frosting was plenty chocolaty enough for me, but use the 1 1/3 cups if you are really into chocolate.
I removed the cake from the pan and put it in a jelly-roll pan to frost as I have nothing in which to store a rectangular cake that is not left in the pan. Being far from a cake decorator, I did my best to apply the frosting. I did have frosting left over which I froze to use another time.
Fudge Ripple Cake
Mrs. Happy Homemaker blog
For the cake:
1/2 cup shortening
1.5 cups sugar
2 large eggs
1 2/3 cups all-purpose flour
2/3 cup cocoa
1.5 teaspoon baking soda
1.5 cups buttermilk
For the Ripple:
1 (8 oz.) package cream cheese, softened
2 tablespoons butter, softened
1 tablespoon cornstarch
1 (14 oz.) can sweetened condensed milk
1 large egg
2 teaspoons vanilla extract
For the Frosting:
2/3 cup butter, softened
5 3/4 cups powdered sugar (I did put it through a sieve)
1 1/3 cups cocoa
1 heaping cup heavy cream
Grease and flour two (9-inch) round cake pans. Beat shortening and sugar together with an electric mixer. Add the eggs, beating on medium speed. Combine flour, cocoa, baking soda and salt. Add the flour mixture alternately with the buttermilk ending with the flour mixture. Beat 3 minutes at high speed, stopping once to scrape down sides. Stir in the vanilla. Pour the batter into the prepared pans.
Beat cream cheese, 2 tablespoons butter, and cornstarch at medium speed until creamy. Gradually add the sweetened condensed milk, beating well. Mix in egg and vanilla. Divide the cream cheese mixture between the two cake pans, pouring on top and spreading to evenly cover the cake batter.
Bake at 350 degrees for 40 minutes, or until a toothpick inserted in the center comes out clean. After removing from the oven, use a large spatula or wide knife to press the cake down somewhat. Cool in pans on wire racks for 10 minutes; remove from pans and cool completely on wire racks.
Using an electric mixer, beat 2/3 cup butter until creamy. Add the powdered sugar, cocoa and heavy cream. Stir in low until combined. Beat at high speed until creamy. Spread frosting between the cake layers and on top and sides of cake. Slice. Enjoy. Repeat.
Since I did not get any ripples in my cake, I decided to make Chocolate Ripple No-Machine Ice Cream to serve with the cake. I will be back with that post later today.
Be sure to check out the links below to see all the great chocolate cakes that other bloggers have made.