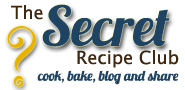 My assignment for this month's
Secret Recipe Club
was
Bad-Girls-Kitchen
. This is both a one-person and a collaborative blog that was started in 2008. That means there is a wealth of wonderful recipes, and my "to make" file grew by leaps and bounds when I searched through this blog.
There are so many wonderful recipes I want to make, especially
Carrot Salad
,
Spiced Quinoa with Cherries,
Instant Chai Mix
,
Carrot Hummus
,
Garlic Naan
and on and on.
I knew that I would be home alone on Mother's Day, wanted to make myself a treat, and chose to make
Stuffed French Toast
with
Buttermilk Syrup
so I actually made two recipes from the blog.
Min is right about the Buttermilk Syrup, it just may make me give up maple syrup completely. This syrup is ridiculously quick and easy to make, but I do have a couple of hints. Use at least a medium saucepan to make this, as the sauce foams quite a bit when the soda is added. I used a small saucepan, and the syrup almost foamed over. I cut the butter into thick slices when I put it in the saucepan so that the butter will melt a little faster. I think a nice variation for the syrup would be to add some spices to it. 5-Spice, Cinnamon, Nutmeg, Apple Pie Spice or Pumpkin Pie Spice would all be good.
I love it so much, I chose to use 5-Spice instead of cinnamon in the Stuffed French Toast. Although I was making French Toast just for me, I made a full recipe of the filling which I plan to use as a spread on English muffins, bagels, or toast. I am thinking of adding a quarter of a cup of mashed berries to the filling sometime.
Because I was cooking for one, I used one egg and a quarter of the rest of the coating ingredients. I had planned to use Texas Toast, but my local bakery outlet store was out. I bought a loaf of bread that was very much like homemade, but it may have been a bit soft for French Toast. I let the sandwich sit in the egg mixture until almost all the egg was soaked up, turning the sandwich a couple of times.
Trying to be fancy, I chose to bake this in my waffle iron for waffled French Toast. This worked OK, but the sandwich separated, and I had to use a fork to remove the bread slices from the grids. I didn't spray my grids with non-stick spray so that would probably have helped. Not totally sure that it was worth the effort, though.
I served the French toast with the Buttermilk Syrup, a couple sausage patties, mini orange slices and a couple of strawberries. This is a delicious breakfast for Mother's Day or any day for that matter.
Thanks for two delicious dishes. I have subscribed to this blog and expect to find more great recipes.
Buttermilk Syrup
from The Bed Girl's Kitchen
1 c. sugar
1/2 c. (1 cube) butter
1/2 c. buttermilk
1 t. baking soda
1 t. vanilla
Combine sugar and buttermilk in a medium saucepan. Slice butter cube and add to saucepan. Stir and bring to a boil over medium heat, continuing to stir often as butter melts. When the mixture has reached a full boil, remove from heat. Cool 1 minute and add vanilla and soda. Serve warm or cool. Store in the refrigerator. Makes about 1 1/2 cups.
5-Spiced Stuffed French Toast
From The Bad Girl's Kitchen
8 sliced thick, sturdy bread
4 oz.s. soft cream cheese ( I used whipped)
1 t. 5-Spice or cinnamon
1 T. brown sugar
1/2 t. vanilla
4 eggs, well beaten
1 t. 5-Spice or cinnamon
1 t. vanilla
1/2 c. milk
1 T. butter
Combine cream cheese, 5-Spice or cinnamon, brown sugar and vanilla in a small bowl and mix well. Spread 1/4 of the mixture on each of 4 slices of bread. Top with remaining bread slices to make sandwiches. Beat eggs well with a whisk in a small bowl. Add 5-Spice or cinnamon, vanilla and milk. Pour egg mixture into a 9x13-inch baking dish. Add sandwiches to egg mixture. Soak until almost all of the egg has been absorbed by the sandwiches, turning to soak evenly. Slowly heat butter in a large skillet. Add sandwiches and cook about two minutes on each side or until heated through and a golden brown. Remove to plates, top with Buttermilk Syrup and enjoy. Serves 4.
If you are not familiar with it,
Secret Recipe Club
matches you up with another blogger each month and you secretly visit their blog, select a recipe, prepare and blog about it on a specific date each month. All the details are on their blog.
Linking to these great parties:
Mop It Up Monday
Marvelous Monday
Make the Scene Monday
Melt in Your Mouth Monday
Mealtime Monday
Manic Monday
What'd You Do This Weekend?